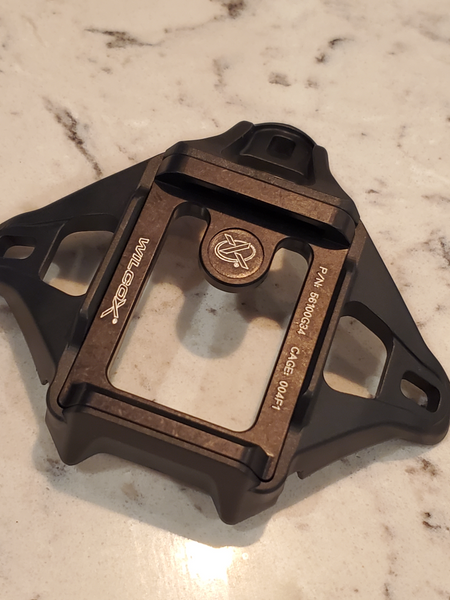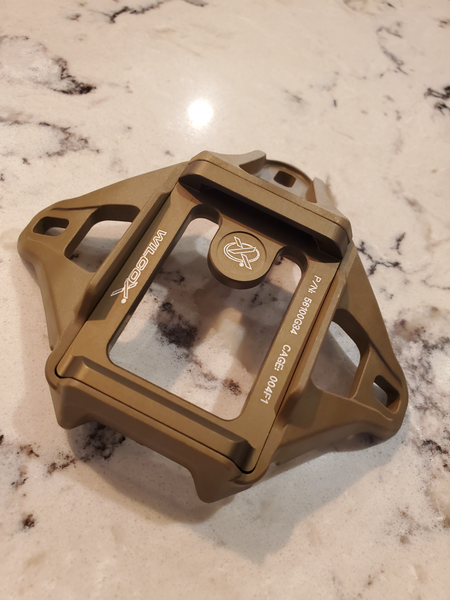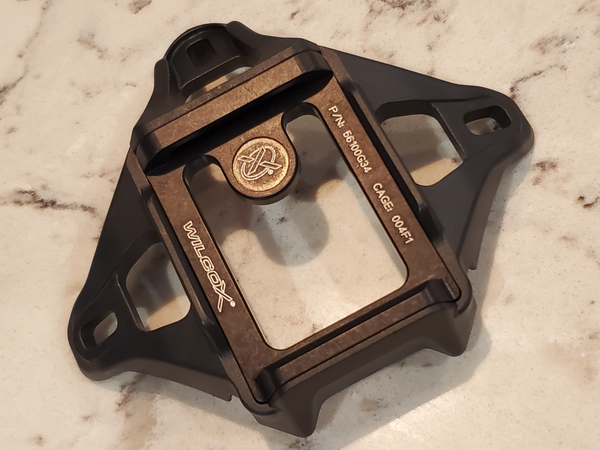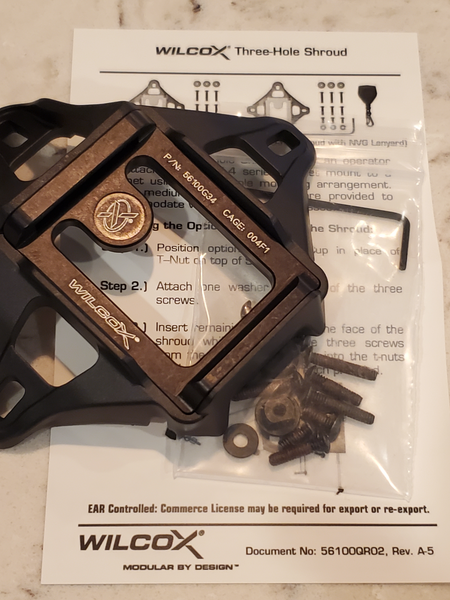 Wilcox L4 Three Hole Shroud
Wilcox Industries designs some of the most sophisticated and user-centric night vision helmet mount systems available. The first reaction people tend to have is to balk at the price tag. Sure, it is expensive, but like everything: you get what you pay for. Wilcox helmet mounts are, literally, works of engineering art. They are designed with direct input from US Warfighters at the very tip of the sharp stick. These designs are refined until they reach perfection and are then masterfully crafted in Wilcox's state-of-the-art manufacturing facility.
The Wilcox L4 Three-Hole Shroud is compatible with helmets drilled in the standard MARSOC/WARCOM 3-hole pattern.  It is constructed from advanced glass-reinforced polymer and Aerospace-grade Aluminum Alloy.  The L4 Three-Hole Shroud utilizes a machined/anodized aluminum mount interface that is insert-molded in a polymer frame for a balance of strength and weight-savings.  The machined interface provides a solid lock-up with any standard bracket NVG mount.  The sleek, yet aggressive polymer frame design is low profile, so it will not snag on ropes, lines, risers, and straps.  Like all Wilcox NVG shrouds, the L4 Three Hole is compatible with their retractable lanyard system.
The L4 Three Hole Shroud comes with two sets of mounting hardware, including both long and short bolts.  This allows users to easily attach the shroud to either ballistic or non-ballistic helmet shells without having to modify hardware.  It also features several attachment points for other accessories and future expansion of the product's capabilities.  Four recesses are molded into the sides of the polymer frame, providing hook points for bungees such as those found on the Ops Core FAST line of helmets and the Crye Precision AirFrame.  Two lower recesses are molded to accept cable/cord pass through and/or future expansion accessories.
ITAR Controlled (No Foreign Shipments):
Export of Wilcox Industries products is controlled by the U.S. Department of Commerce under Export Administration Regulations (EAR) and the U.S. Department of State, Directorate of Defense Trade Controls Bureau of Political-Military Affairs, in accordance with 22 U.S.C. 2778-2780 of the Arms Export Control Act (AECA) and the International Traffic in Arms Regulations (ITAR). (22 CFR Parts 120-130) regulate Wilcox products.

It is unlawful to export, or attempt to export or otherwise transfer or sell any hardware or technical data or furnish any service to any foreign person, whether abroad or within the United States, for which a license or written approval of the U.S. Government is required, without first obtaining the required license or written approval from the Department of the U.S. Government having jurisdiction.